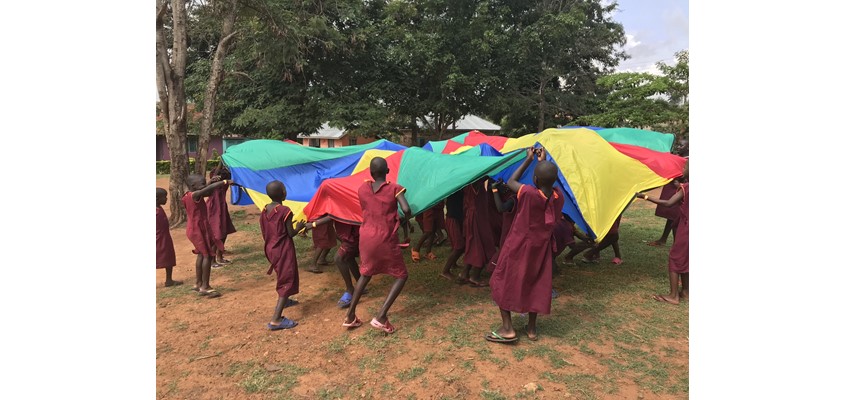 We come to the end of our time at Musana with full hearts, telling stories, scribbling in our journals, and praising God for the amazing work He has done in this place.

Today we met with the administrative team to discuss the incredible growth our team has seen since last year. We also shared the new goals set with the teachers this year and what their continued vision is for the next steps of their school. As always, our main role in the conversation was to encourage and validate the amazing work, leadership, and intuition of Mike and Irene - the principal and nursery director here at the main campus. Just like their teachers, the eagerness and inquisitiveness of these leaders left us so inspired.

Today our team also organized some fun activities for the children who are boarded at the school and, for whatever reason, don't have a family to go to over the Easter holiday. We had a blast with the students, playing games and just enjoying the day. The children ran relay races, participated in science experiments, and had such fun playing with the colorful parachute.

During this time I was struck by God's presence in all of this and in everything we do for His children. God's love is like the 'egg relay'; sometimes while we're trying to carefully walk through life, we fall and drop "our egg". But He's always there as the good teacher to pick us up and send us back on our way.

Living in God's presence is like running a race without holding back and laughing the whole way. Sometimes our Father runs behind us and picks us up - like Mark did with so many racers today.

Living a life of prayer is like an alka seltzer egg-rocket. Sometimes God answers our prayers the way we think He should (i.e. the egg explodes). Sometimes He doesn't (i.e. the egg doesn't explode and everyone learns about the 'trial and error' of science).

Living in God's church, with Jesus at the center, is like the colorful parachute. We circle up, holds hands, grab onto Him, and rejoice. Tonight our team rejoices together for the 'circles' He has given us: this team, our church, and our families.

We love you! We will see you all soon! Please pray for us as we board the van tomorrow and begin our 30 hours of travel home!
Share Your Thoughts
Share